At Servigroup Hotels, we want gluten-free travel to be as easy and as simple as any other option.
As you can read above, Servigroup Hotels do everything they can to make a gluten-free stay in one of their 18 hotels in Spain possible.
They realize that traveling with celiac disease or intolerance can be very difficult. They have more than 10 years of experience in the meantime with being a "gluten-free hotel". The servigroup hotel chain was even officially the first gluten-free hotel chain in Benidorm. In 2010, they even received an official certificate from the ACECOVA (Asociation of Coeliacs for the Valencian Community). Then they entered into a partnership with the FACE (Spanish Celiac Association). Because of this, the staff has also received official training so that everyone knows how to deal with it!
As you can see, they have done everything to make it as gluten friendly as possible! Isn't that great? Then you know for sure that you're in the right place!
9 of the 18 hotels are located in Benidorm. Benidorm is one of the most famous seaside resorts in Europe and also in Spain. They offer enough for everyone.
Child-friendly hotels
Hotels with entertainment
Sports facilities for the sporty
Special gluten-free menu
Special gluten-free menu
For their gluten-free vacation guests, they have prepared a special menu in collaboration with the FACE (Spanish Celiac Association). This guarantees a menu that is 100% carefully prepared.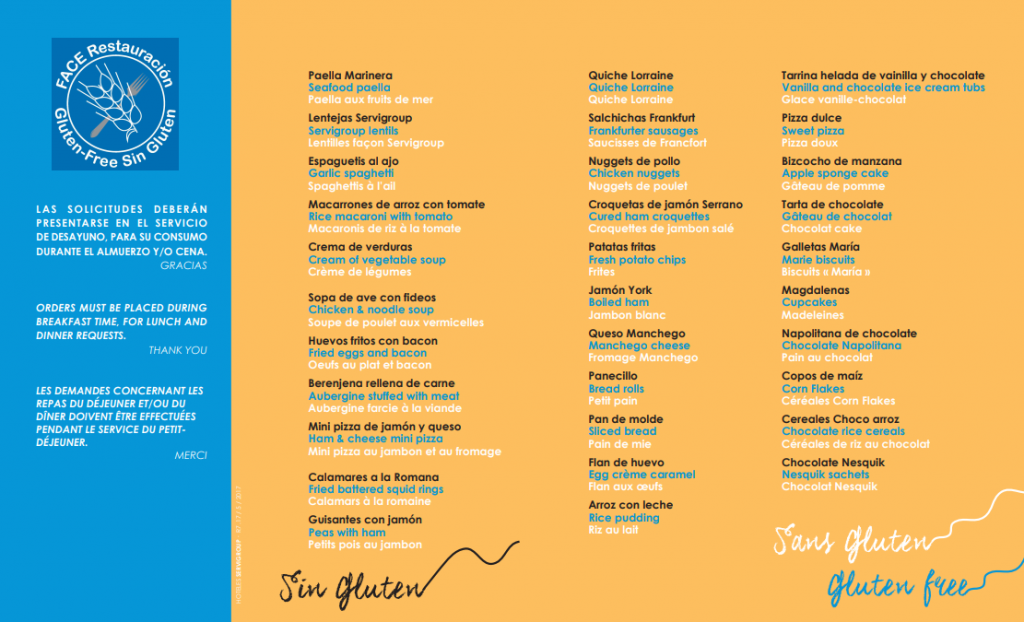 What can you eat there?
Their menu already shows a complete picture of the possibilities in their restaurants. A buffet is also possible in one of their 18 hotels. You can request this at breakfast so they can have it ready for lunch or dinner. Everything is possible!
Cornflakes
Pasta
Paella
Even gluten-free beer!
Convinced? Book one of the 19 gluten-free Servigroup hotels right away!
Haven't found the ideal gluten-free vacation yet? Then feel free to look further!