How my husband and I discored eating gluten-free in Scotland is a great experiende. On November 1, 2018, my husband and I said yes to each other. As icing on the cake that day, my brother and sister gave us a far too crazy wedding gift: a honeymoon trip to Edinburgh. Since my husband and I love nature and history, no better city could have been chosen. Of course, my brother and sister (and their entourage, of course) had also thought of this city, because Scotland (and all of Great Britain) is great about the gluten-free diet. I want to take you through my amazing, gluten-free adventure in Edinburgh (Scotland).
Schiphol
Before we left, I wanted to eat something small at Schiphol Airport. We had obviously had a good lunch, but I didn't want to sit on the plane hungry. I ended up getting a gluten-free sandwich with cheese at Bread. I was glad this was possible, but I wouldn't recommend this sandwich to anyone. What a terrible, dirty, dry and tasteless sandwich. You pay almost €5 for it and it really doesn't taste. A waste of your money!
Day 1. Edinburgh
The next day we woke up in beautiful Edinburgh. Our apartment was right in the middle of the old town. We decided to have breakfast at the little joint Hula (103-105 W Bow) which was a 5-minute walk from our apartment. On the menu there was a lot of GF (gluten free) and GFO indicated, GFO stands for Gluten Free Option. Why doesn't this exist in the Netherlands? So the dish originally contains gluten, but it is also gluten free option. If they now also put this on the menu in the Netherlands, the service does not always have to consult with the kitchen what is gluten free option. This would save a lot of hassle. Anyway, I finally decided to go for the bread with hummus and roasted vegetables. It tasted truly OVER-HER-LIVE! Our day couldn't have started any better in Edinburgh. I was immediately curious to see what else this beautiful country and city had to offer gluten-free.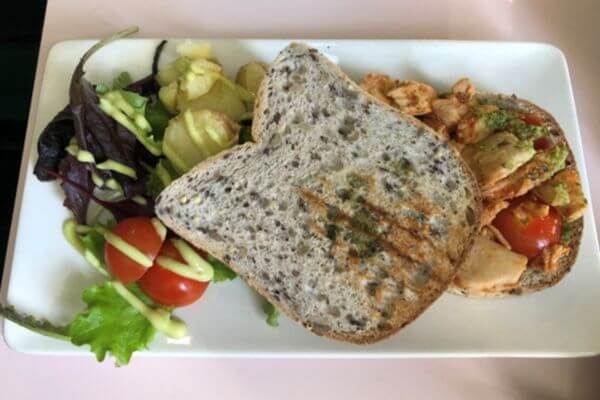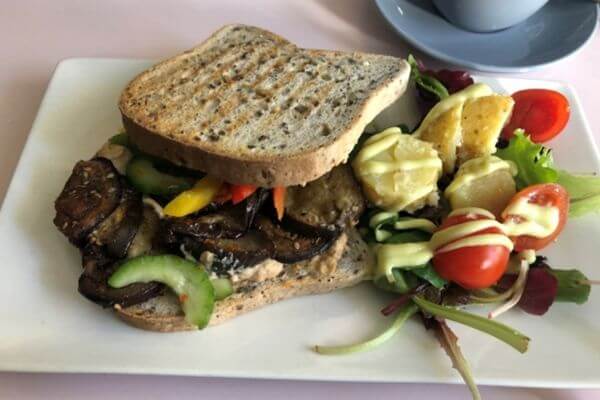 We decided, after our visit to Edinburgh's beautiful castle, to have lunch at home, in our apartment, in the afternoon. So we had to look for a supermarket in Edinburgh. We ended up at the Sainsbury's. This supermarket is in a lot of different locations in Edinburgh. It took a while to find the gluten-free section, but what a huge selection! I took the bread from Genius and this bread is a lot better than in the Netherlands. It doesn't fall apart as easily because it's a lot firmer. Furthermore, I was pleasantly surprised that they even have gluten-free ready-made rolls. The cherry bakewells (also pictured below) were really delicious, so highly recommended if you like cookies.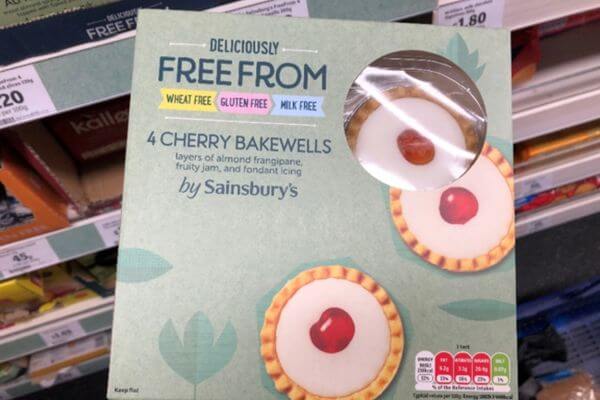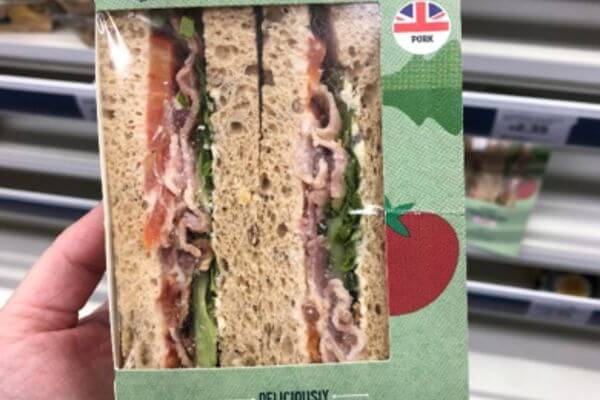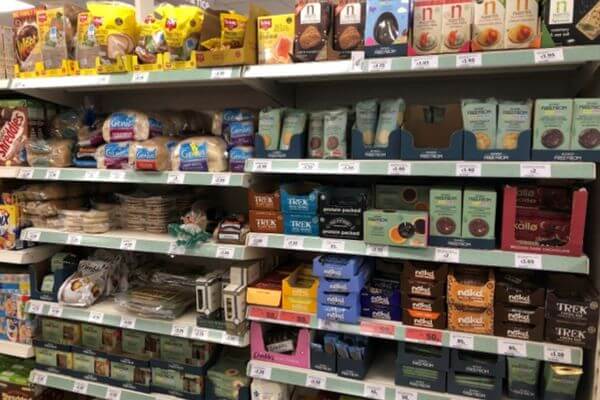 Day 2. Edinburgh
On day 3, we again went to the same place for breakfast. This time my husband also ordered a gluten-free breakfast, so again, just like in Amsterdam, we could share the sandwiches with each other. We took the bread with hummus and grilled vegetables (like the day before) and we now also ordered bread with grilled chicken, harissa and a basil pesto. Both sandwiches tasted delicious. As you can see in the photos, breakfast is served with a potato salad. Delicious!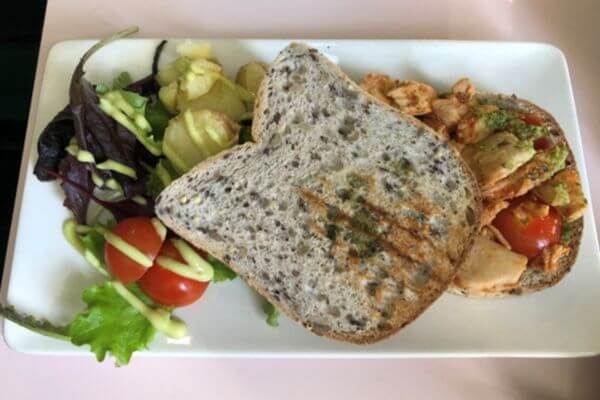 After this hearty breakfast, we decided to visit the beautiful Holyrood park. What a beautiful mountain with spectacular views. You look out on the city on one side, but on the other side you look out on nature and the sea. The view is truly breathtakingly beautiful!
Gluten-Free lunch Edinburgh
After this long, intense walk, we decided to have coffee somewhere. We came across a place with a gluten-free avocado cheesecake, so the choice was pretty quick. This restaurant is called Checkpoint and is located on Bristo 3 PI. It's a cozy joint with lots of vegan and gluten-free options.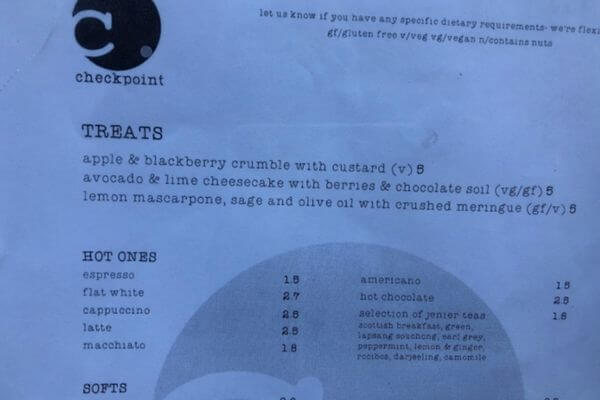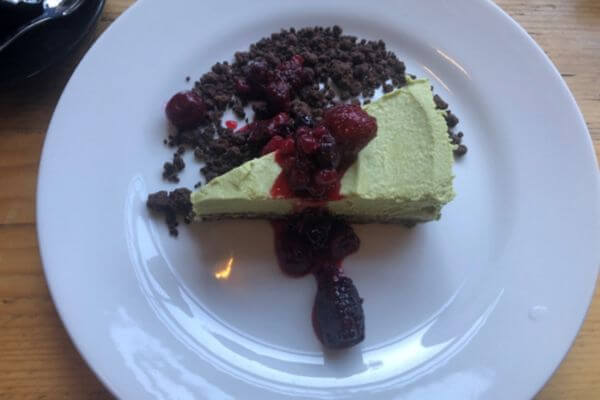 In the evening, we went out for dinner at an Italian restaurant. This restaurant is called La Locanda and was also a 5-minute walk from our apartment. As a starter I ordered a gluten-free bruchetta with roasted vegetables and as a main course I took a salad with roasted vegetables (yes, I love roasted vegetables). Both dishes were delicious and again the service was excellent on the gluten-free diet.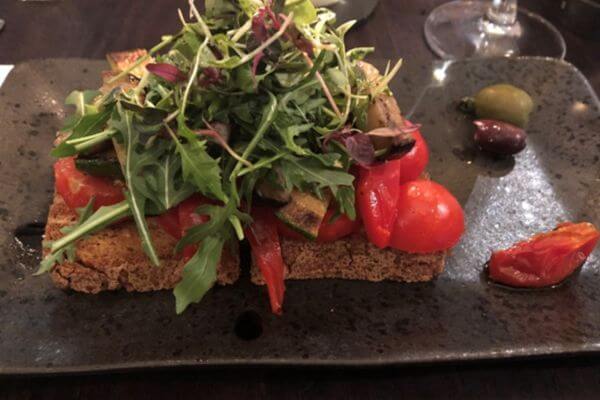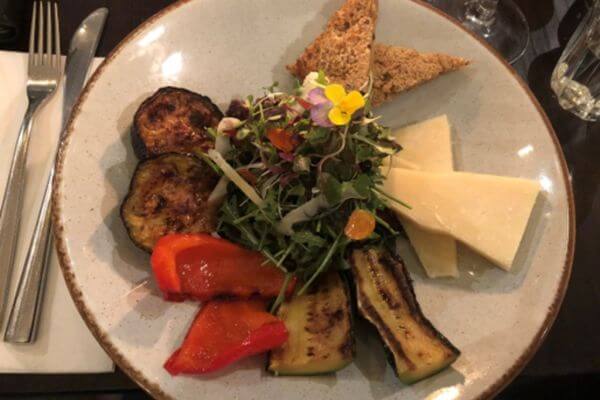 Day 3. Edinburgh
Unfortunately, the last day was already upon us. After eating a delicious breakfast at Hula's twice, we decided it was now time for a really hearty English breakfast. My husband went looking for a place that serves a real English breakfast gluten free. Eventually we ended up at Loudons. This was a little further to walk than we had been used to the past few days. After a 15-20 minute walk, we ended up at this large but cozy joint. It is a large, popular joint and there is an awful lot of gluten-free options. Finally I had my real English breakfast. This joint bakes their own gluten-free bread and it tastes delicious. The bread tastes a bit polenta-like, but in a positive sense. Once a different taste of bread than the standard gluten-free bread.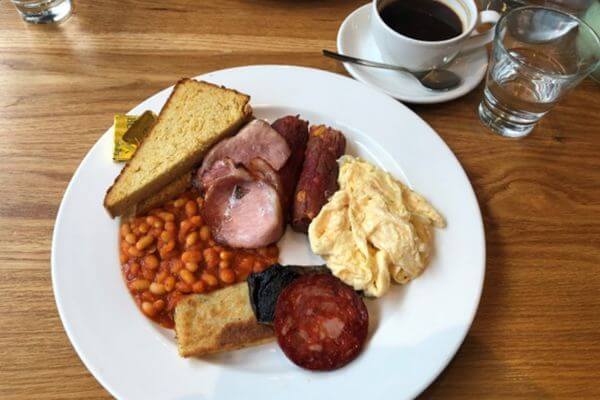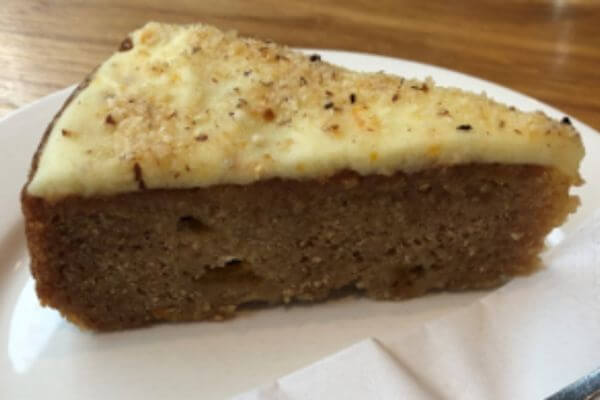 After this hearty breakfast, the staff asked me,'Would you like some cake? We have many gluten-free options.' I had had a very hearty breakfast, but how could I say no to this? There were lots of different options. In the end, I chose the peach cinnamon cake. How incredibly good this tasted!
Conclusion:
Wow, I have fallen in love with Scotland. Gluten-Free eating Edinburgh? As you can see, NO PROBLEM 😍

A country full of history, beautiful nature and super many gluten-free options. Everyone is well informed about the gluten-free diet. Everything is prepared separately (not once did I ask or have to ask for this), because that is a matter of course in this country. I have not been sick a single time and the service at all the restaurants we have been to was well informed about the gluten-free diet. I already can't wait to go back to this beautiful country that has stolen my heart!
Where to stay?
We stayed at Stay Edinburgh City Apartments. Highly recommended! Very nice and clean apartments in the heart of the city center near the castle. Eateries and sights just steps away.