Gluten-free Spain is a great gluten-free travel destination for many reasons: its stunningly well-preserved architecture and historical landmarks, Mediterranean atmosphere, diverse landscape, and tasty gluten-free food.
For anyone with celiac disease or gluten sensitivity, Spain is definitely an ideal travel destination because it is relatively easy to find gluten-free food. With a little bit of research and planning, travelers with dietary restrictions can enjoy all that Spain has to offer without having to worry about getting sick.
It can't be told often enought, but Spain really is a wonderful country to visit, especially if you are looking for a gluten-free getaway. There are plenty of hotels that offer gluten-free menus, and the Spanish people are very accommodating to those who need to avoid gluten. There are a lot of great places to stay in Spain if you want to be surrounded by gluten-free options. A lot of hotels have an entire gluten-free floor, complete with its own restaurant, lounge, and pool. If you're looking for a smaller, more intimate setting, there are plenty of charming bed and breakfasts throughout Spain that cater to those on a gluten-free diet. Just be sure to ask ahead of time if the establishment can accommodate your dietary needs.

Gluten-free Spain: travel
Any gluten-free vacation should be well prepared in advance. That way, you will never encounter (unpleasant) surprises. For some gluten-free vacation destinations you need to prepare very well, but a destination like Spain is not one of them.
Now I am not saying that you should go unprepared, but I am now so familiar with the gluten-free options of Spain that I also dare to go unprepared.
Still, it can be helpful to know a few things. What are some general tips? Do you need a dietary translation? Can I find information at a Spanish celiac association? Are there gluten-free apps I can consult in Spain? We will try to answer as many questions as possible.
Find Accommodations in Gluten-free Spain
The most important question to answer is probably "where should or can I stay?". There are plenty gluten-free hotels, gluten-free campsites, gluten-free resorts and gluten-free bed & breakfast to stay in Spain. We have collected as much as we could find. Missing one? Let us know please!
Popular Gluten-Free Destinations in Spain
Within gluten-free Spain, of course, you can go in any direction. Spain has many tourist attractions. To make it easy, we have listed the most popular destinations in Spain.
Gluten-free Spain: what and where to eat?
Finding gluten-free foods in Spain won't be very challenging. Want to know more? Read my blog about "gluten-free eating in Spain". Here you will see that Spain is full of delicous gluten-free food. Besides hotels (as i mentioned before) you will find plenty restaurants or supermarkets where you'll be able to find anything you like "sin gluten" like the Spanish would say. Gluten-free brands you can find in the supermarkets are Beiker, Procelli, Valipfrom, Orgran and Schär.
To avoid encountering unnecessary surprises, it is helpful to know a few basic Spanish words. That way you can communicate that you need to eat gluten-free to someone who may not speak English very well. Here are a few basic words in Spanish.
Gluten-Free Spanish
| English | Spanish |
| --- | --- |
| Gluten-Free | Sin Gluten or Sense Gluten |
| I have celiac disease | Yo so celiaco |
| Gluten-free products | Productos sin gluten |
| Wheat | Trigo |
| Wheat allergy | ALergia al trigo |
Eating gluten-free in Spain? Some examples for your inspiration: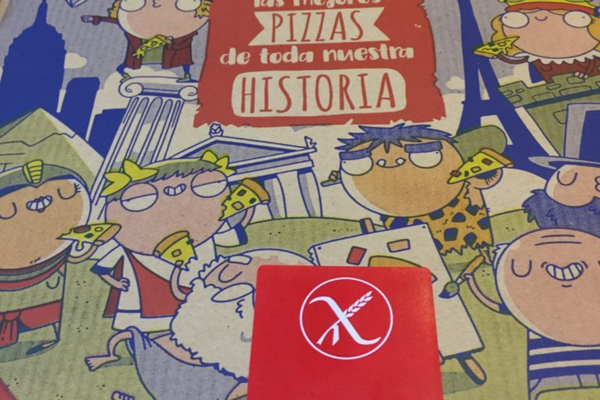 Gluten-Free Pizza in Barcelona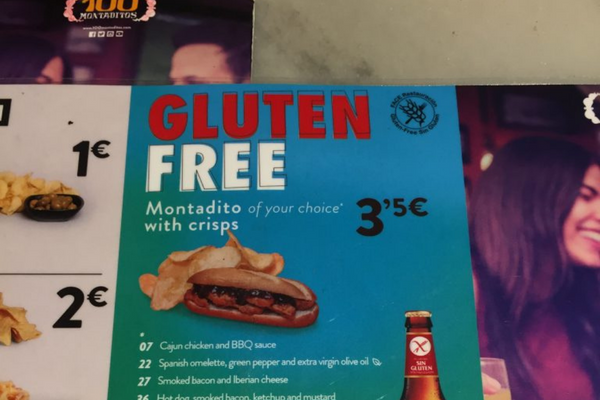 Gluten-Free Lunchroom in Valencia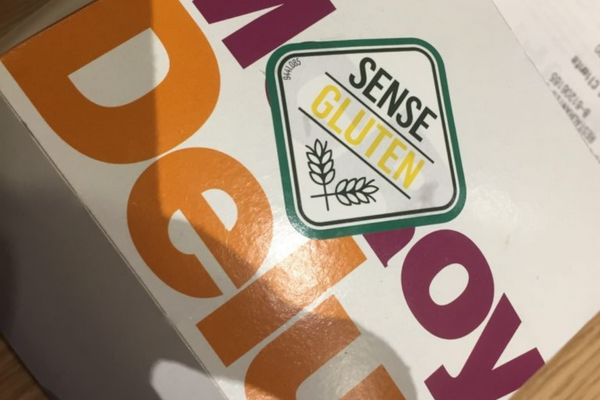 Gluten-Free McDonalds in Malaga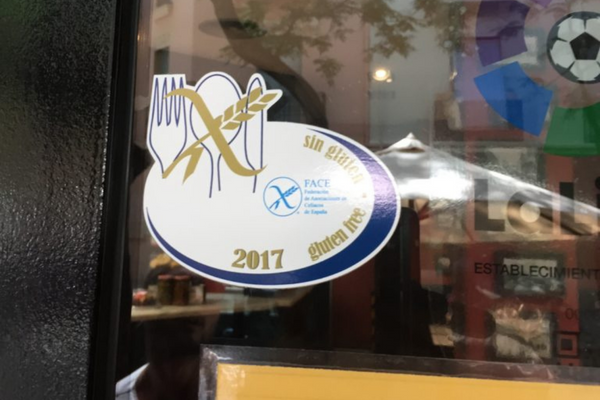 Gluten-Free Dining in L'amettla del Mar
Gluten-free Spain: Coeliac Associations
Consulting a Spanish Celiac Association in advance may be helpful. There is 1 official association in Spain. That is the FACE (Federacion de Asociaciones de Celiacos de Espana). In addition, you also have the FACE Young. This is the youth association that depends on FACE. They target a younger audience between the ages of 14 and 30.
Here you can find general information and also download their FACE app. So you can find hotels, restaurants and other things approved by FACE in Spain.
Gluten-free Spain: apps
While traveling abroad gluten-free it can be challenging to find places to dine & drink. Although I still believe that Spain won't be really challenging, you always can make life easier. While on the road you can use gluten-free apps like Celicidad and Find me gluten-free. These apps helped me a lot finding great places to eat.
Gluten-free Spain or other destination?
Still not decided if Spain is the place to go? Look for other gluten-free destinations, gluten-free hotels or gluten-free resorts!