It was exactly three years since we had last been to beautiful Italy. Three years ago, we were quite northern at Lago di Ledro, near Lake Garda. If you want to know about my gluten-free experience there, read "gluten-free food in Italy." This year we decided to explore another area of Italy. It would be a 1900 kilometer drive, but then you would also be right on the beach between the beautiful cities of Rome and Naples. So our campsite was in Baia Domizia and we took several trips during these three weeks. In this blog I will take you to all the beautiful places we visited.
Laggo Maggiore
Since it is a long distance from Drenthe to Baia Domizia, we decided to make a stopover. Our stopover was at camping Rose on Lake Como. Near this campsite (5 – 10 min walk) is a huge supermarket with a wide gluten-free assortment. Not only were here the standard products like bread, pasta and cookies, but also in the refrigerator were several gluten-free cakes, pizzas and filled dough snacks. If you are on vacation near this place, I would definitely advise you to go shopping at this supermarket. For me, this was a good start to the vacation, because this promises something in this beautiful country.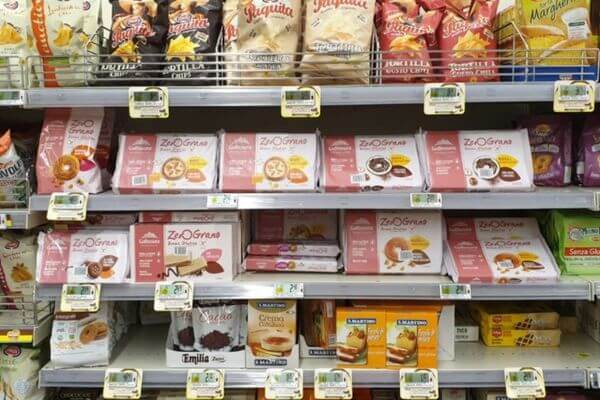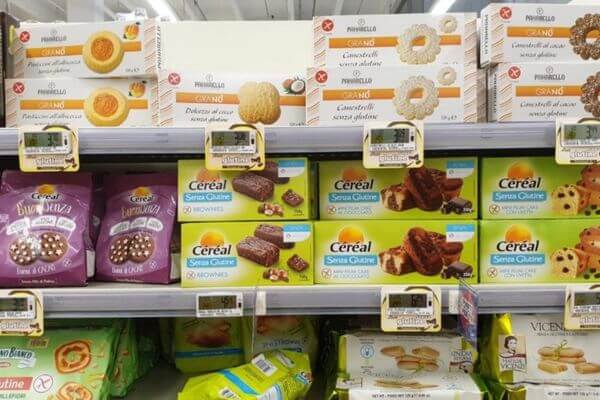 Camping Baia Domizia
Unfortunately, it was not possible to eat gluten-free in the restaurant at the campsite. I found that quite unfortunate, because the previous times in Italy and Spain it always worked. But the service here was very adamant that it was not possible, so apparently there is no room for gluten-free cuisine. There was, however, a large camping store at this campground with a gluten-free selection. You can find a variety of gluten-free pastas, breads, cereal and salts. In the freezer, they even have gluten-free cornettos and other gluten-free ice cream with a waffle.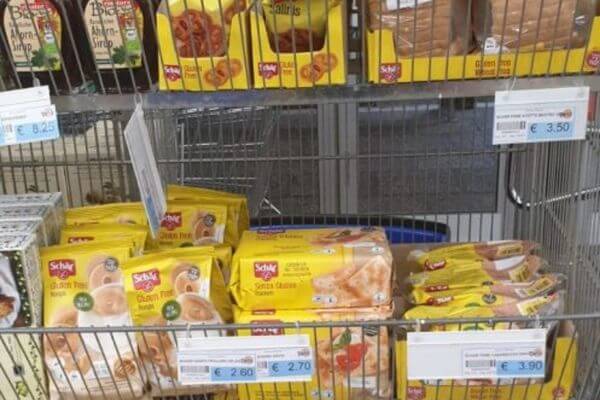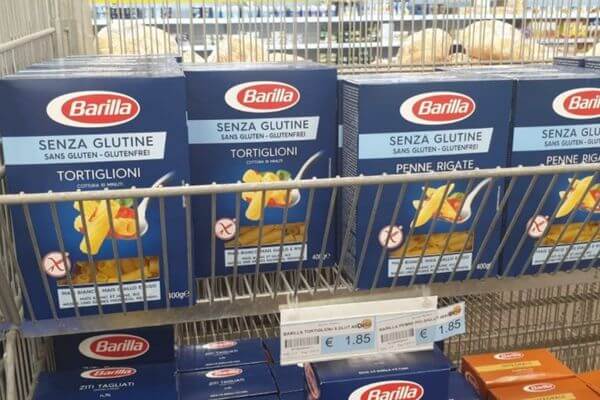 Gaeta & Formia
Our first outing was to Gaeta and Formia, these towns are about a 25 – 30 minute drive from the campground. Both towns are cozy and look touristy, as it is located by the sea (and thus a port). In Gaeta we soon came across a restaurant serving gluten-free pizza. We didn't eat here ourselves, but there was so much advertising for gluten-free that I actually dare say with certainty that you can eat here just fine. The restaurant is called Ciro and is located by the water, it really is in a beautiful location. It was still too early for us to eat (the restaurant also did not open until 8 p.m. in the evening and we were already there in the afternoon)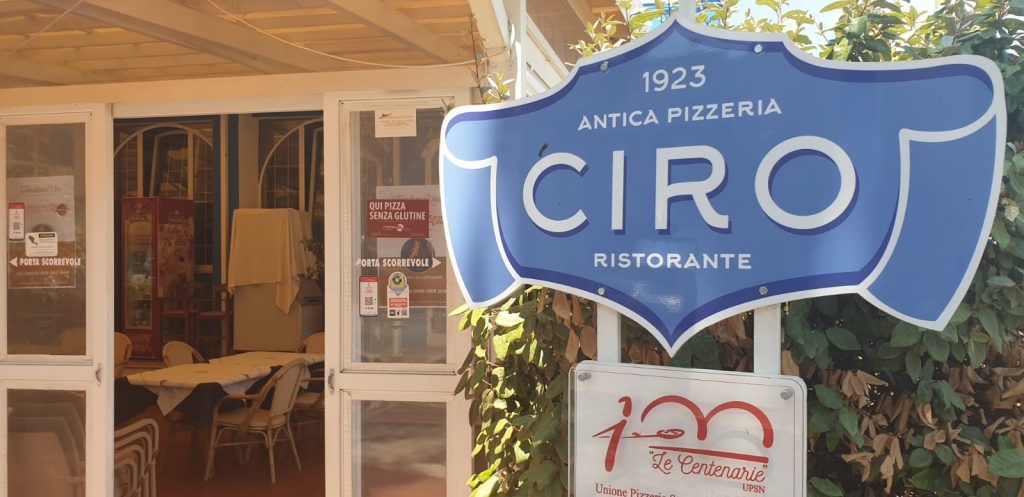 After visiting Gaeta, we went on to Formia. When we were in Formia in the evening, we started to get hungry. We had looked on the fantastic, Italian gluten-free app Mangiare Senza Glutine and decided to eat at the restaurant Vizi & Virtù. My husband had walked up to the kitchen (where they didn't speak a word of English) and asked, "Pizza senza glutine?" to which the chef immediately replied, "Si, si! So we decided to eat here. I had a delicious pizza funghi and, as always in Italy, did not get sick. It was a good pizza with a nice base and very affordable. We spent €17.50 for two pizzas + two large drinks. The choice is not very wide, so don't expect a starred restaurant. If you like small scale and coziness, this restaurant is definitely suitable.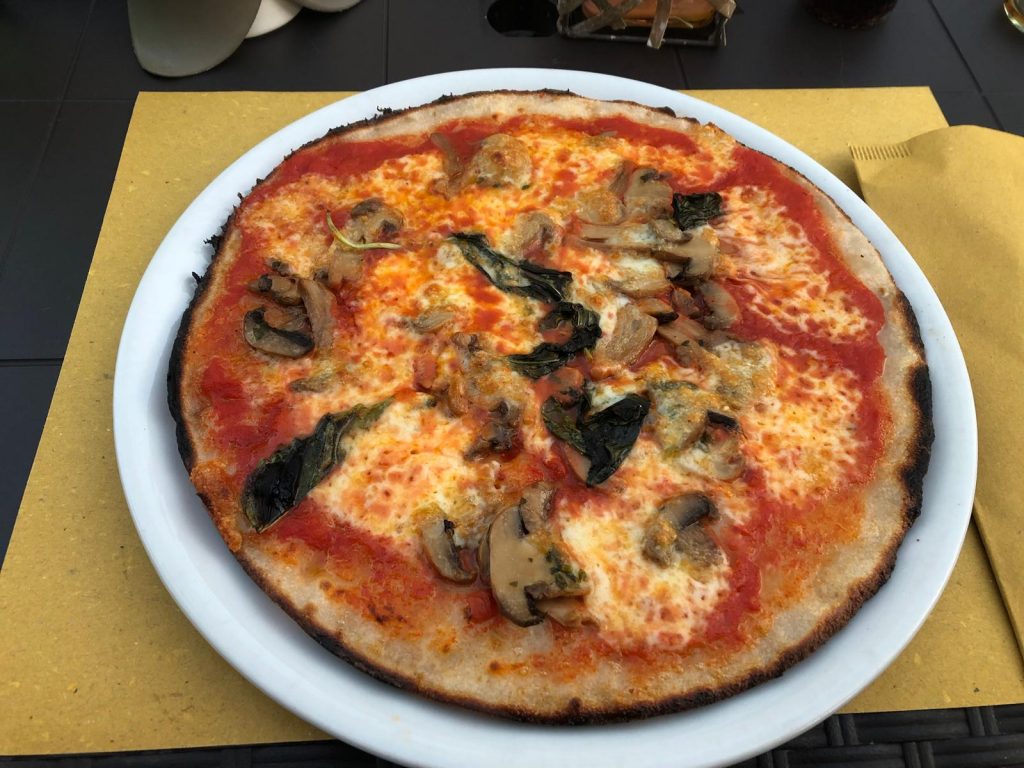 Pompeii
Our next excursion was to Pompeii. Pompeii is famous for the fact that the volcano Vesuvius totally destroyed this former Roman city 79 AD. After spending hours in the sun and tremendous heat viewing this beautiful and impressive city (at least what is left of it), we began to get hungry. Once again we used the Italian app – which I mentioned earlier – and we decided to go to the restaurant Osteria Da Peppino. How happy I am with this choice in retrospect! It's a bit of a walk from ancient Pompeii, but believe me: it's worth it. When we arrived at this quiet little street, I immediately saw all the stickers of the AiC (the Italian Celiac Association). We were warmly welcomed and the man who served us spoke very good English. We looked at the menu and I asked which pastas I could order gluten-free. He indicated that all pasta was possible gluten-free. To which I asked, "Even the stuffed pasta with spinach, ricotta and tomato sauce? I could not believe my ears, even stuffed pastas and lasagnas were possible here. I decided to order the salad caprese beforehand and then go for the aforementioned stuffed pasta. Both dishes were delicious! The salad was served with a gluten-free roll. I really recommend this restaurant, because the food is really good, the service is friendly and speaks English well and the location is beautiful and secluded. A fun fact: Jeremy Clarkson has eaten there and is pictured with the owner.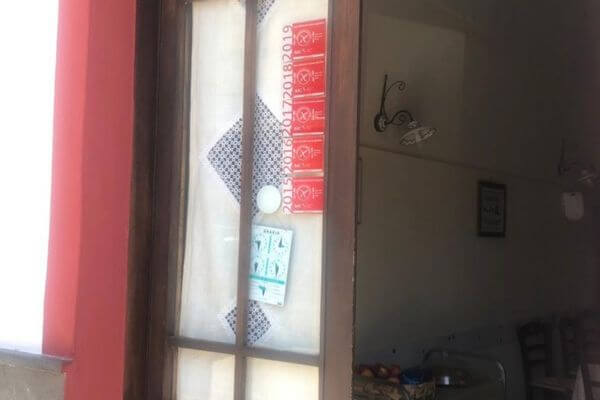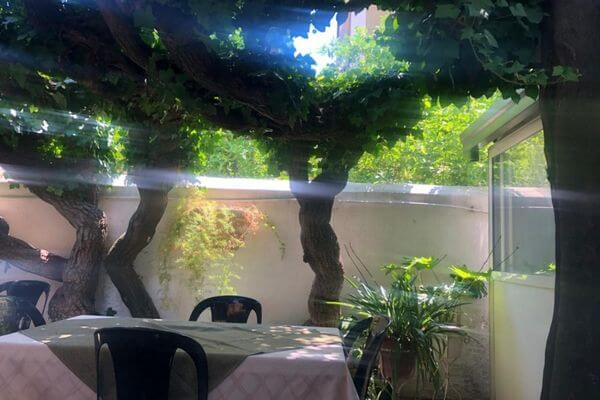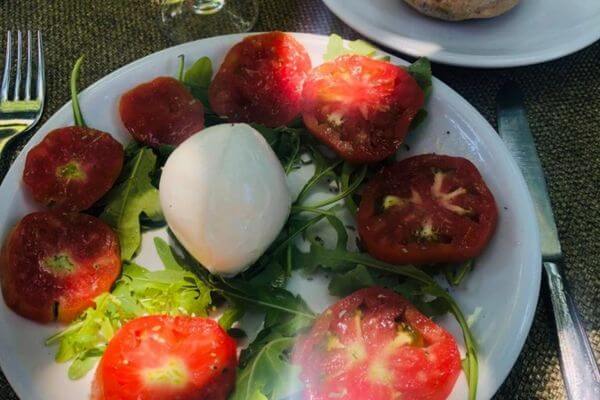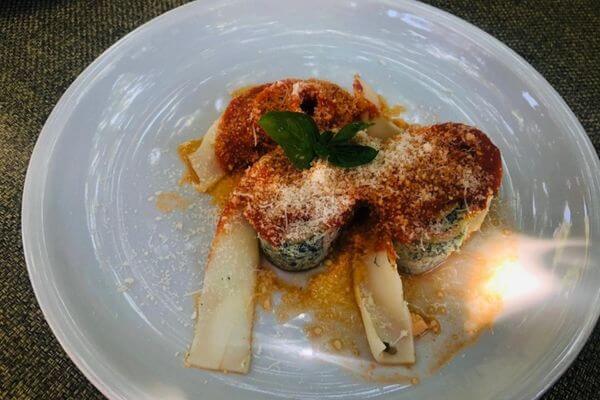 Rome
All vacation I had been looking forward to one of the most beautiful cities I know: Roma. It would be a 2.5-hour drive for us, but we never find that a problem. Nine years ago I also went there, but I didn't have celiac disease then. Besides, it was my husband's first time in Rome, so that made it special for me too. Looking on the Italian app for gluten-free restaurants in Rome makes you very happy. The choice is huge, so we decided to just let it all come to us, as always really. First, we visited the beautiful St. Peter's Square and on our way from our subway station to this square, we already came across several restaurants with signs saying different texts such as "pizza senza glutine" or "pasta senza glutine. We decided to visit several sights first. After visiting the Colosseum, we both started to get huge appetites. Again, we grabbed the app and looked to see which restaurant was nearby. We ended up at La Pace del Cervello. This restaurant is a 5-minute walk from the Colosseum, but because it is on a secluded street, you hardly notice. The menu indicated that both pasta and pizza were gluten-free options. Since I had never eaten pasta carbonara in Italy before, my choice was quickly made. And again, I had made a good choice, because the pasta was delicious. Even my husband said he had never tasted such delicious gluten-free pasta.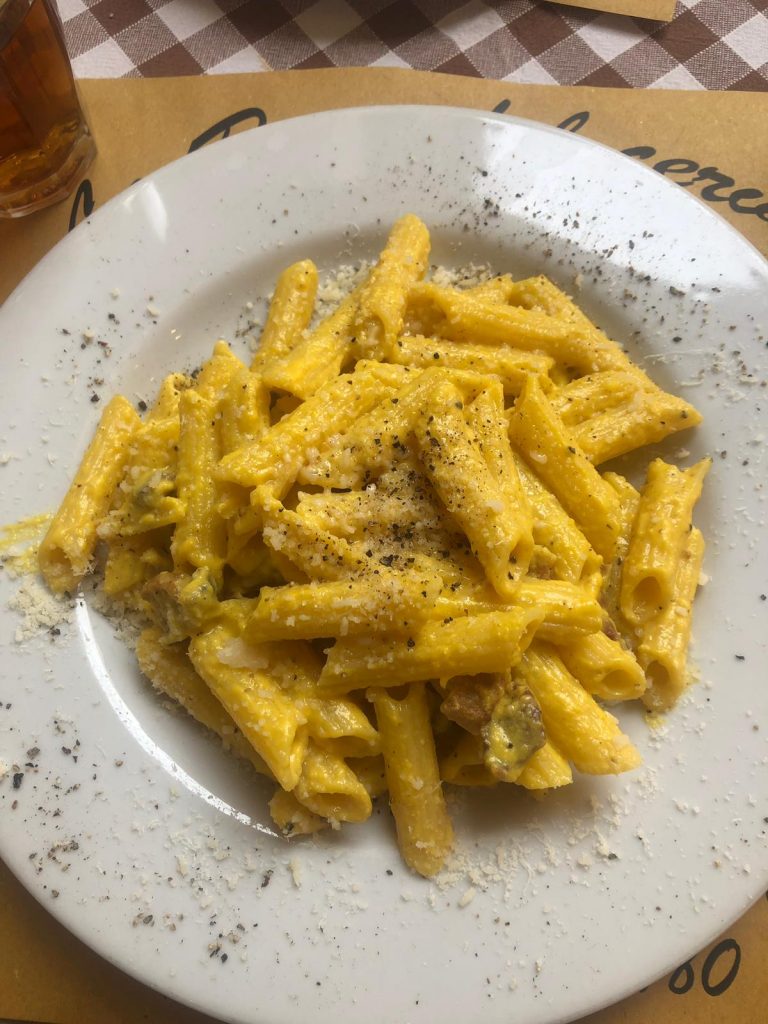 Formia
Between trips, my husband and I often didn't feel like cooking, so we looked at options near Formia (since that town was closest to our campsite). Through the app we ended up at a newly added restaurant Le 3 C. It said it was a pizzeria and of course with the app you always get surprised. When we got here, a large sign indicated that gluten-free pizza was available. It's not a restaurant, so you shouldn't expect that. You can think of it more as a big New York pizza for example. Most people pick up pizza here, but there is an option to sit and eat your pizza. You can choose from several pizzas and also get gluten-free fried snacks. We took a picture of the gluten-free menu and you can see it below. This was another delicious pizza. A different base than I had previously had in Formia, but both incredibly delicious. This pizza crust was, I think, closer to the real pizza crust. So this place is also ideal if you want something quick to eat or like to pick up a pizza and eat it somewhere else.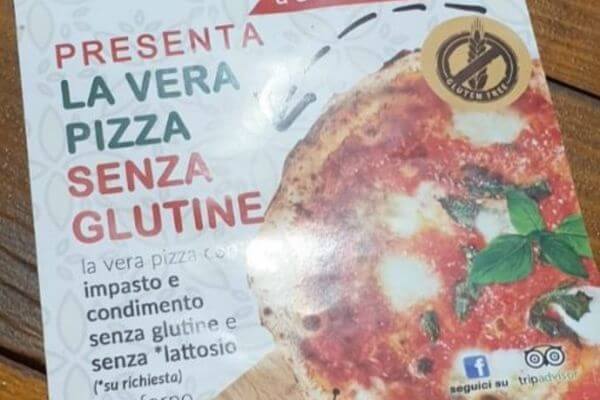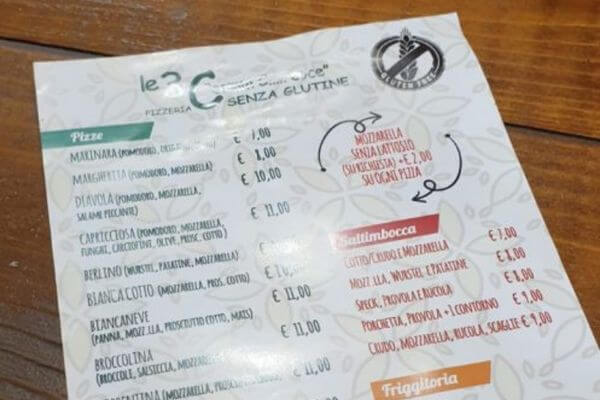 We went on vacation for a total of three weeks, but only a few days before leaving for home did we discover another gem. I grabbed, again, the app and suddenly saw a newly added restaurant called Old Wild West. It said it was a steakhouse. Since I wanted to eat something other than pizza and pasta for once, we decided to go to this restaurant. So shortly before leaving, we discovered that there is a huge shopping center between our campsite and Formia, in this shopping center there is this steakhouse. This big shopping center is about 15 – 20 minutes drive from the campsite.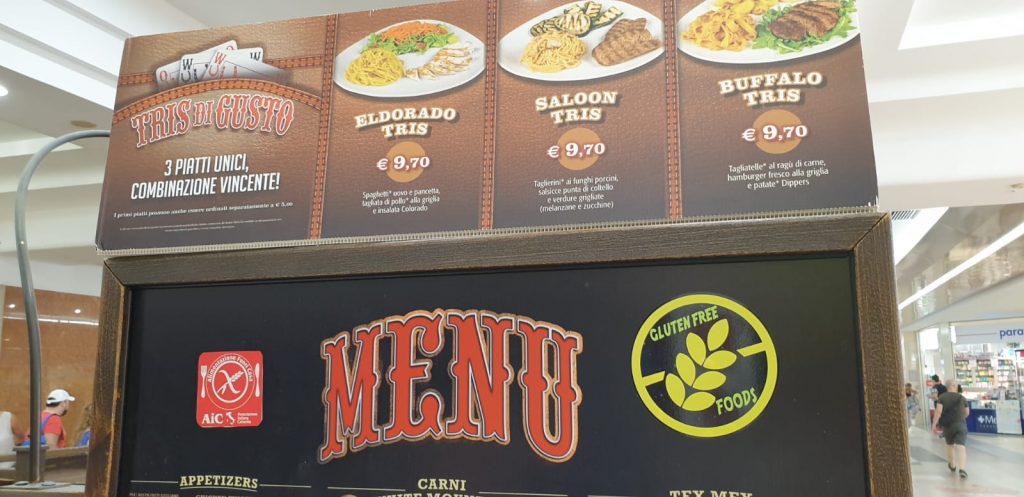 When we arrived I immediately saw the well-known AiC sticker. I always get as happy as a kid when I see this sticker, because then you know that there is a lot of choice gluten-free and everything is really top-notch. We were able to go straight into the restaurant and I was given a different menu. Basically it is the same menu as the regular one, but on mine (the gluten-free one that is) it is then indicated with stickers which dishes can be gluten-free. There is an additional charge of €1 or €3 per dish. I have no problem with this, because it makes sense that gluten-free food is generally more expensive and they really do prepare it separately.
I was impressed by the leaflet I received. It literally explained that they have a separate area in the kitchen specifically for preparing the gluten-free dishes. I decided to go for an American burger with accompanying fries, and I ordered grilled vegetables extra. It was delicious! Again, this restaurant really comes highly recommended. It's cozy, because it's really decorated like a steakhouse and you have plenty of choice. Better said: we ate there three nights in a row, oops! The next night I decided to go for chicken nuggets, French fries, a salad and a ratatouille of vegetables. Of course, I shared the fries and ratatouille with my husband, because otherwise it was a lot. The salad wasn't very special, but it was tasty. The chicken nuggets, on the other hand, were OVER delicious. These were the most delicious chicken nuggets I have ever had in my life. So we decided to eat here again the next day (our last night). I then decided to have a breaded chicken burger. All the dishes, from the past three nights, were delicious. If you are near Formia, you really have to go to this restaurant!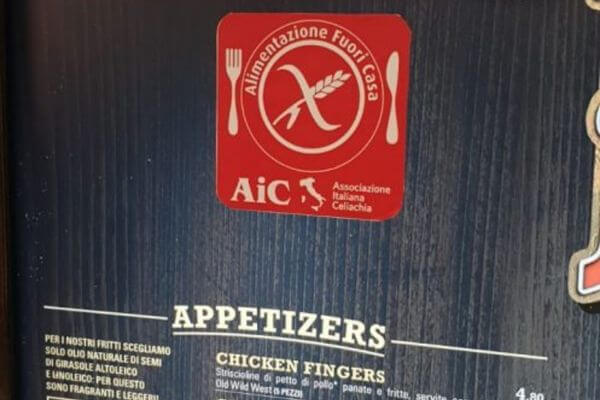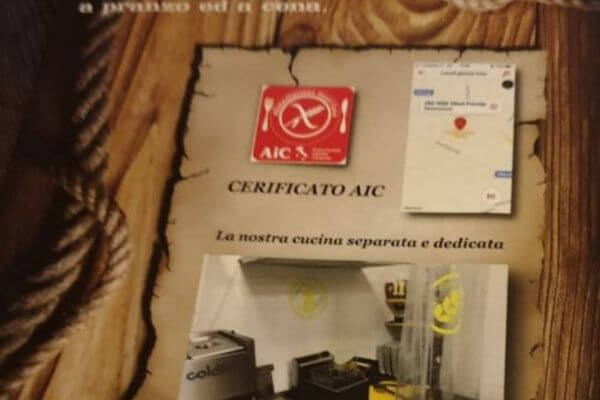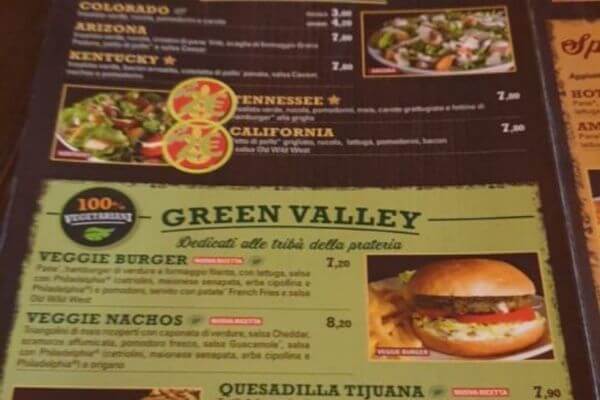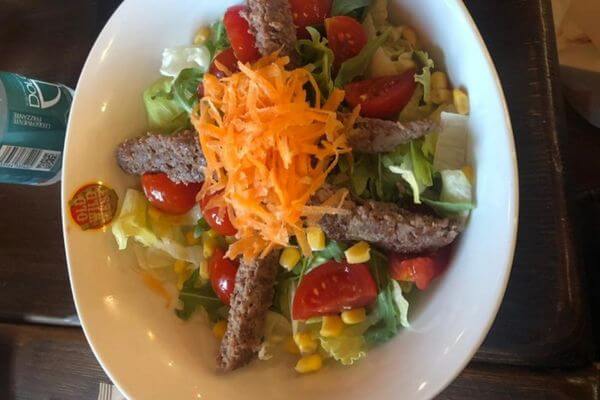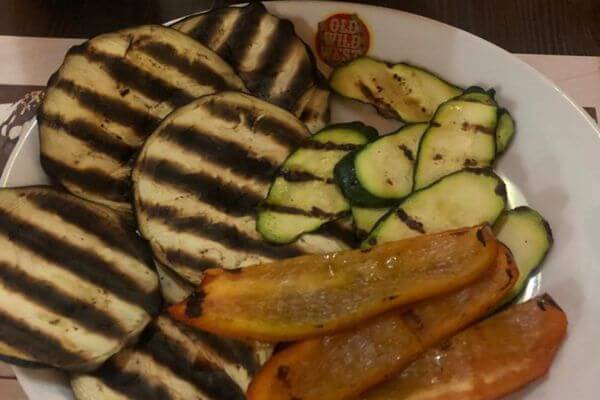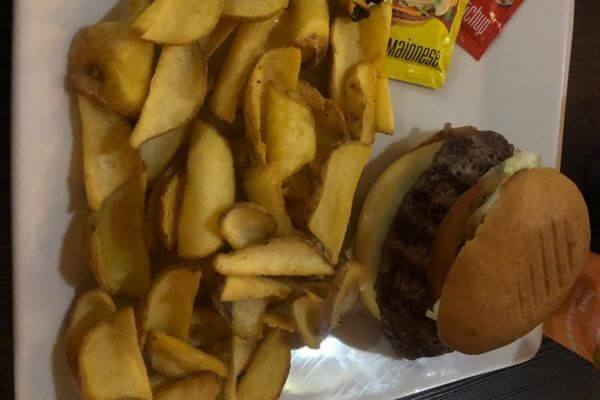 The return trip
Unfortunately, all good things come to an end, including this trip. For the return trip, I had bought gluten-free sandwiches. It's so nice that in Italy they even sell gluten-free sandwiches at gas stations. Obviously not everywhere, but often enough. I had the sandwiches with ham and mayonnaise and sandwiches with shrimp. I personally didn't like the ones with shrimp that much, but I did like the ones with ham and mayonnaise. The sandwiches are a bit dry, but that's why the mayonnaise or other sauce that comes with them is so important.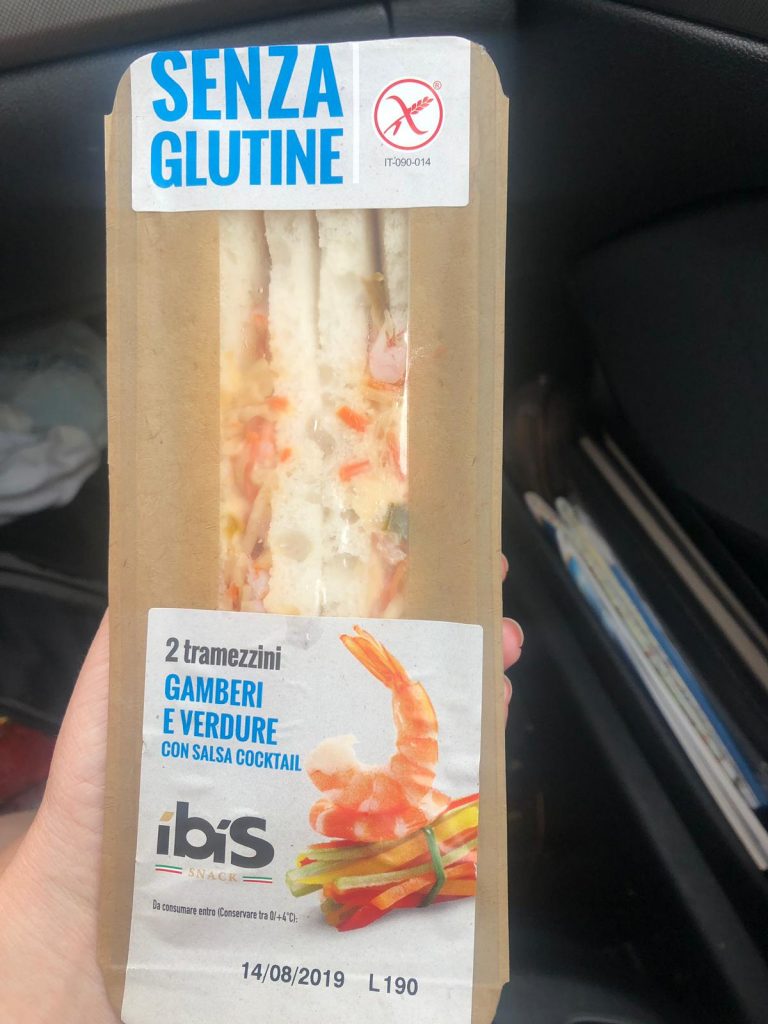 Looking to travel to Italy? Take a look at our collection of gluten-free hotels in Italy!