Gluten-free Valencia: a breathtaking city with lots of gluten-free options. Of everything I have seen so far in Spain, I think Valencia is perhaps the most beautiful. Especially the historic center is beautiful. As stupid as it sounds, even the "normal" buildings were beautiful to look at. A city with all the ingredients for a nice day or weekend away. I will try to tell as much as possible about the sights so you can get a good idea of this. I will also show you what kind of gluten-free meal I had the pleasure of eating there.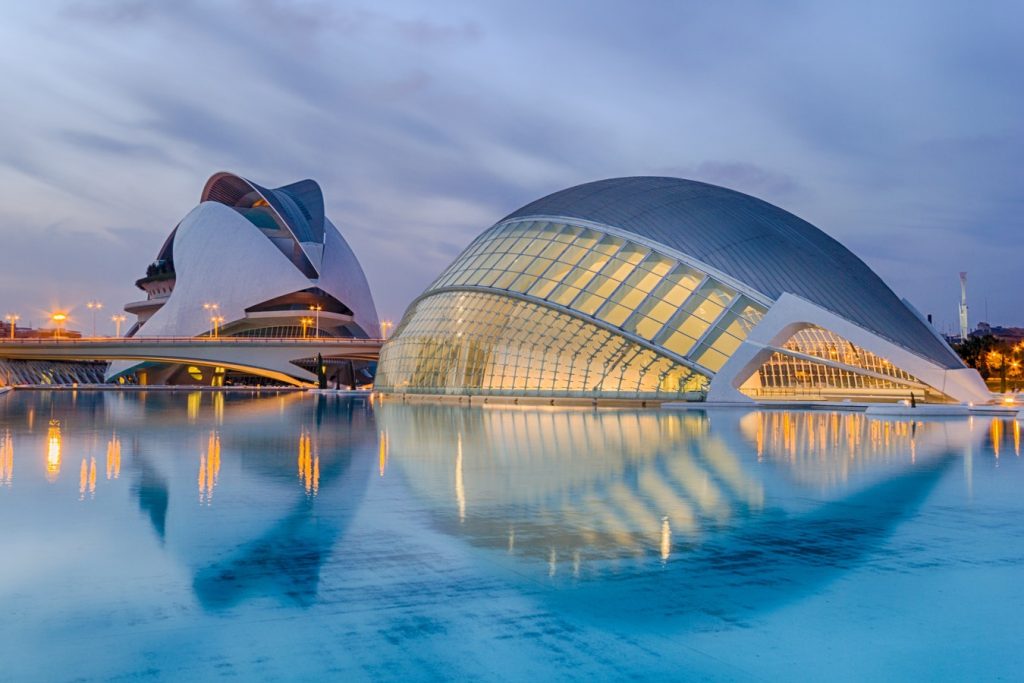 Gluten-free food Valencia
My husband and I had said before our vacation to Spain that we had to find a joint where we could eat gluten-free tapas no matter what. As we usually do, we let ourselves be a little surprised. Once we arrived in Valencia we got on our cell phones and googled "gluten-free Valencia" or "gluten-free tapas Valencia". Plenty of hits and plenty of choice. Of all the places mentioned, one seemed to fit our taste. Restaurante L'Alfabega. A restaurant with a Mediterranean menu of tapas, meat and fish dishes. It sounded good! With Google maps by our side, we walked quietly in that direction. Once we arrived, we didn't think it looked very cozy, but then that didn't matter anymore. In fact, right across from the little restaurant we saw something that made us very happy. A large poster with the most beautiful words you can come across in Spain: "sin gluten".
Turned out there was a gluten-free lunchroom that looked much cozier at first glance. Besides, I am a real bread lover and never skip an opportunity to have a nice lunch with bread. Inside it looked normal, not very special, but more than fine to sit and recover from the walking and warm weather. I walked straight up to the cashier's counter to ask first, of course, about the exact food and its preparation. She spoke no English, but communication was fine considering I said "sin gluten" and she immediately understood what I meant. There were a few sandwiches among them that I wasn't allowed to have, but otherwise lots of choice at very low prices. For a euro or two you have a delicious sandwich. Everything was served packaged. That way you can be sure nothing can get by!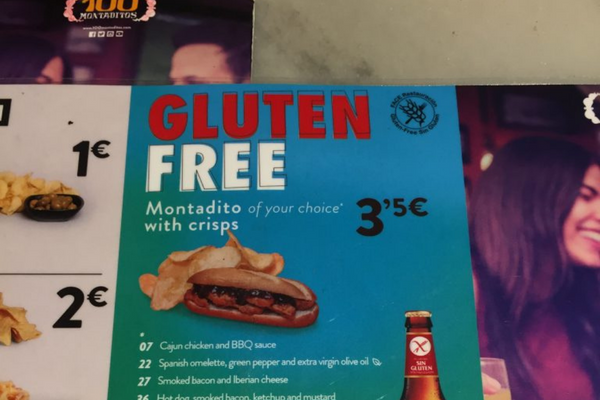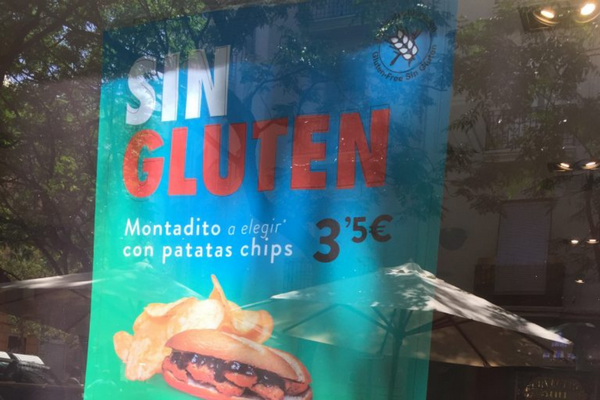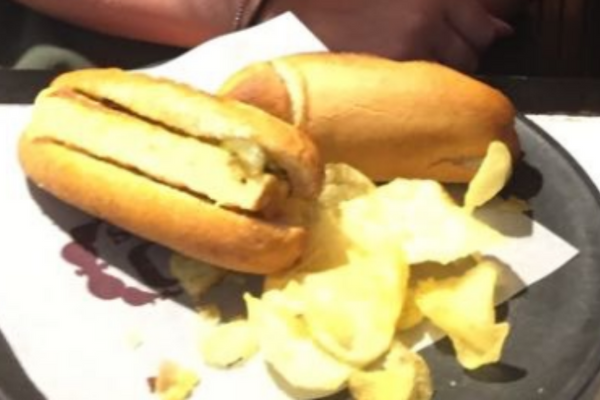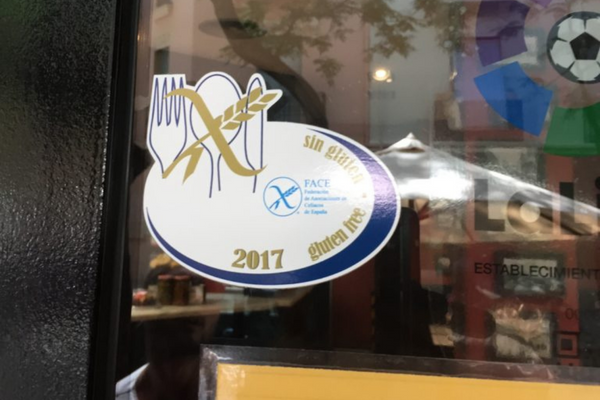 After a long day of lots of walking to see all kinds of things, we felt like dinner. However, we hadn't planned it very well since most restaurants didn't open until around 8:30 pm. We then opted for Telepizza for a delicious gluten-free pizza. Telepizza is also open all day so it was practical for us to go. There were about 5 pizzas that could be ordered gluten-free. Plenty to choose from, but unfortunately not as extensive in terms of options as I was used to in Italy, for example. Telepizza in Spain has a always a gluten-free logo on the front. This is from the Spanish celiac association. The pizzas that are gluten-free are also all served pre-packaged in a sealed box that again had a logo on it.
Where else can you eat in Valencia?
Valencia offers numerous restaurants or small eateries where you can eat delicious food. Of course, during our time in Valencia, we didn't get to discover & test all the joints. Fortunately, Verrassendvalencia.nl has compiled a nice list of nice restaurants, bakeries and stores where you can eat well!
Gluten-free Valencia: places to visit
Obviously, you don't go on vacation just to eat good food. Valencia is a beautiful city with a lot to see. I was not able to see everything, but enough to give a few tips.
The cathedral of Valencia: la Catedral de Valencia
If there is one thing I always try to visit abroad (especially in countries like Spain and Italy) are cathedrals. Some are often more beautiful and special than others. It is the combination of beautiful architecture, stunning artwork on both the inside and outside and the complete tranquility you find when you walk in a cathedral. You pay a price of +/- €7 for an entrance to the cathedral.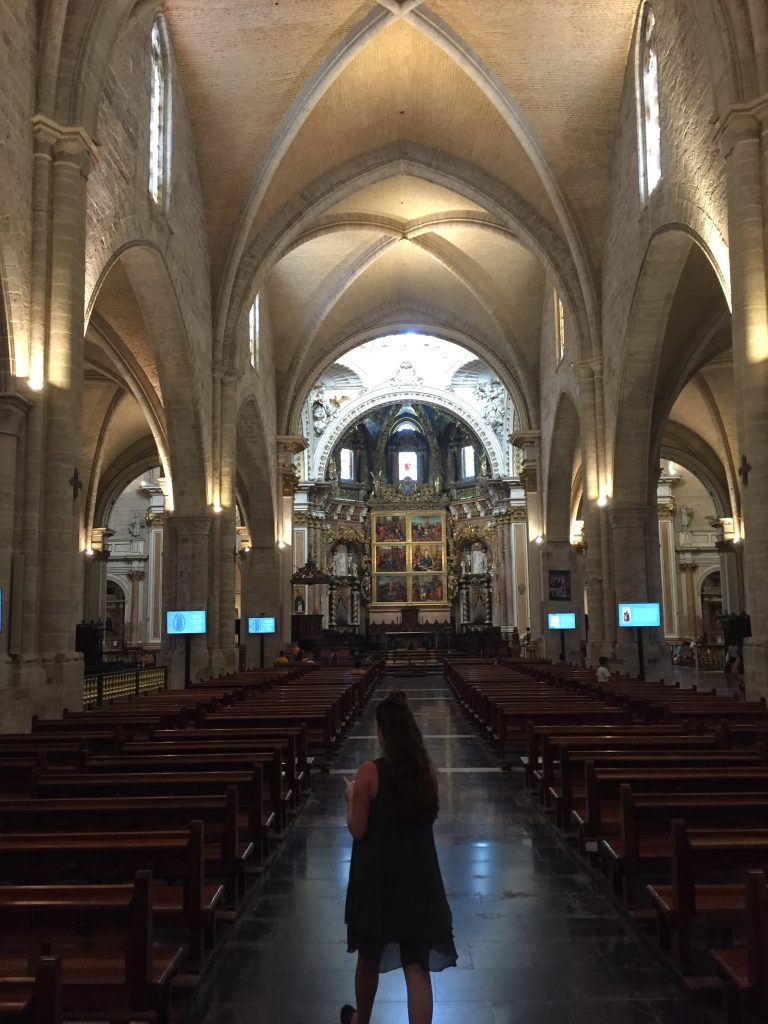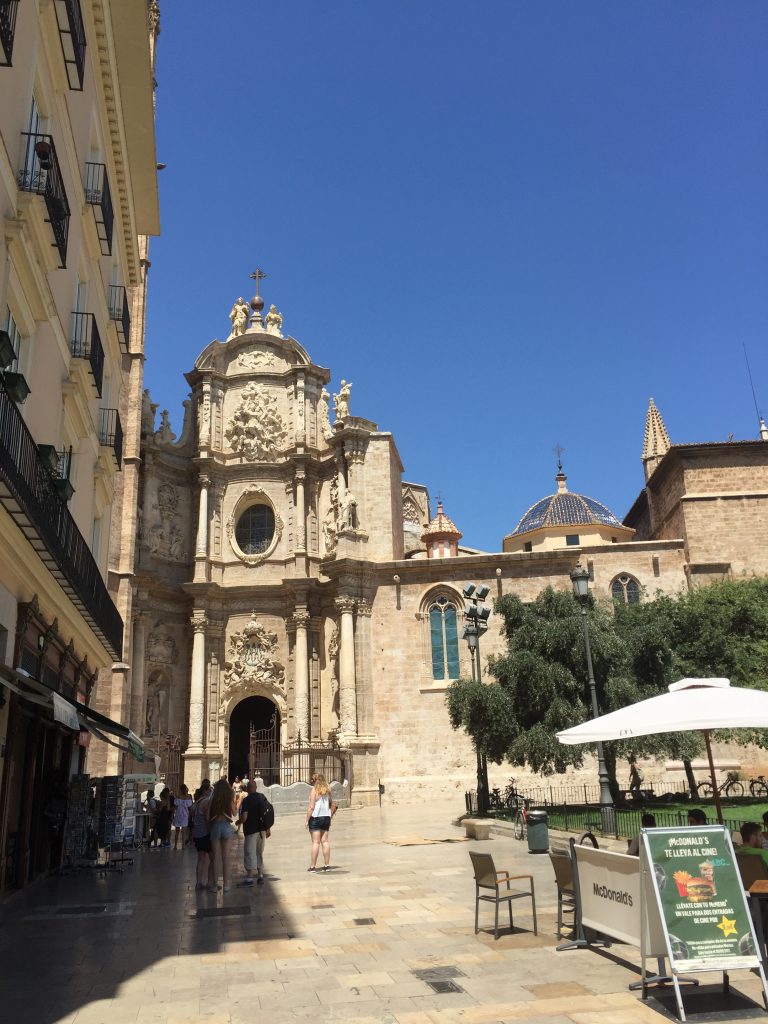 Plaza de Toros: bullfighting arena
Although I am against bullfighting and find it disgusting … the building itself is a beautiful sight. The arena can be visited and also viewed inside. There is also a museum above the building where you also get the tickets which is definitely worth seeing.